Which Deck Cleaning Products are Right for You?
Whether your deck needs a quick touch-up or a deep cleanse, we have the right product to get the job done. Check out the DeckMAX deck cleaning products and choose the one that suits your deck's needs.
Life can be rough on a deck. Restore your faded PVC deck to its vibrant color! The E2 PVC Deck Revitalizer also removes minor scratches and stains. Make your deck beautiful again with this easy-to-use formula that is also eco-friendly. No need to strip or sand; simply apply this formula once a year to MAXimize the beauty of your PVC deck.
Professional Grade Concentrate Deck Cleaner
There are so many deck cleaning products, but this highly versatile deck cleaner is chosen again and again by customers, contractors, and manufacturers for cleaning outdoor decks. Choose what the professionals use! Clean your heavily-soiled areas with this safe concentrate.  You can also use it on fences, stairs, and more. Need to remove mold and mildew? This cleaner works great for that, too!
This safe, non-corrosive paver and concrete cleaner will easily and efficiently remove stains, dirt, mold, mildew, and algae from all hardscape surfaces. Think outside the box and use it on your garage floor or your brick walkway. It's also great on sidewalks and retaining walls. You will love the power of our paver and concrete cleaner!
Composite and Wood Deck Cleaner
Put our powerful Composite and Wood Deck Cleaner to work. It removes stains, mold, mildew, and algae from organic deck surfaces. Remove the gunk from your deck, the ground-in dirt, and the grease that collected under your grill.
Ready to Use Multi-Purpose Cleaner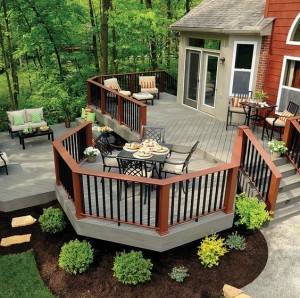 Our Multi-Purpose Cleaner is tough to beat when it comes to getting rid of dirt and blemishes on a multitude of outdoor surface types. While you're cleaning your deck, you can use this same product on the railing, the wicker patio chairs, the metal patio table, the fabric awning above the deck, and pretty much anything else that stays on your deck. You can even clean retainer walls and fences with this cleaner! Use our spray bottle and refill it from the half-gallon container.
Do you have dirt stuck in a hard to reach place? Use our PVC Revitalizing Wipes to easily clean between fence posts, around spindles, and along molding. This special cleaner restores faded color and also resists stains.
Pull out one of these convenient wipes to clean those hard to get at places in your metal fences, light fixtures, and outdoor furniture. Cleanliness is at your fingertips.
Keep your deck and outdoor living areas spic and span with the DeckMAX family of powerful cleaning products. Contact us for more information on all things DeckMAX.